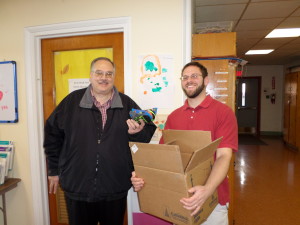 PHOTO: (L-R) Pastor Mark Wildermuth presents Northgate Head Start Center Manager Dan Ress with donation boxes of new children's clothing items.
Knox County Head Start (KCHS) recently received a generous donation from Mount Vernon's Faith Lutheran Church and the Faith Women of the Evangelical Lutheran Church in America through their annual "Thankoffering" worship service on Sunday, Nov. 22. Pastor Mark Wildermuth presented several pairs of children's socks and undergarments to Northgate Head Start last week. The donations will be distributed to KCHS families in need. Dan Ress, Northgate center manager, said, "We're so grateful for this thoughtful donation. It really makes a difference in the lives of our children and their families." Knox County Head Start (KCHS) also thanks community volunteers who have recently knitted and donated warm winter hats for its families.
KCHS serves more than 400 children and families throughout Knox County, providing comprehensive services including educational activities supporting children's readiness for kindergarten, and attention to children's health, social-emotional, dental and nutritional needs, along with supports for parents in promoting family self-sufficiency. Services and community parenting trainings are provided to pregnant moms, infants, toddlers, preschool-aged children, and school-aged children, funded through the Department of Health and Human Services – Administration for Children and Families Federal Head Start grants, with additional support from the United Way of Knox County and The Community Foundation of Mount Vernon & Knox County.
For more information visit www.knoxheadstart.org; like Knox County Head Start, Inc. on Facebook; or call (740) 397-1344.