Family engagement or parent/caregiver involvement describes all of the ways that you are involved in your child's preschool education. KCHS offers many family engagement opportunities, such as:
KCHS believes that you are the first and most important teacher in your child's life and we will work with your family in preparing your child for school.
Head Start Parent/Family Engagement Goals
| | |
| --- | --- |
| Family Well-Being | Parents and families are safe, healthy, and have increased financial security. |
| Positive Parent-Child Relationships | Beginning with transitions to parenthood, parents and families develop warm relationships that nurture their child's learning and development. |
| Families as Lifelong Educators | Parents and families observe, guide, promote, and participate in the everyday learning of their children at home, school, and in their communities. |
| Families as Learners | Parents and families advance their own learning interests through education, training, and other experiences that support their parenting, careers, and life goals. |
| Family Engagement in Transitions | Parents and families support and advocate for their child's learning and development as they transition to new learning environments, including EHS to HS, EHS/HS to other early learning environments, and HS to kindergarten through elementary school. |
| Family Connections to Peers and Community | Parents and families form connections with peers and mentors in formal or informal social networks that are supportive and/or educational and that enhance social well-being and community life. |
| Families as Advocates and Leaders | Parents and families participate in leadership development, decision-making, program policy development, or in community and state organizing activities to improve children's development and learning experiences. |
Click on the image below to be taken to an interactive Family Engagement Framework from the Office of Head Start National Center on Parent, Family, and Community Engagement. Use the interactive Framework to find research, resources, and regulations related to program foundations, program impact areas, family engagement outcomes, and child outcomes. Select any area of the Framework (after clicking on the image below) to explore.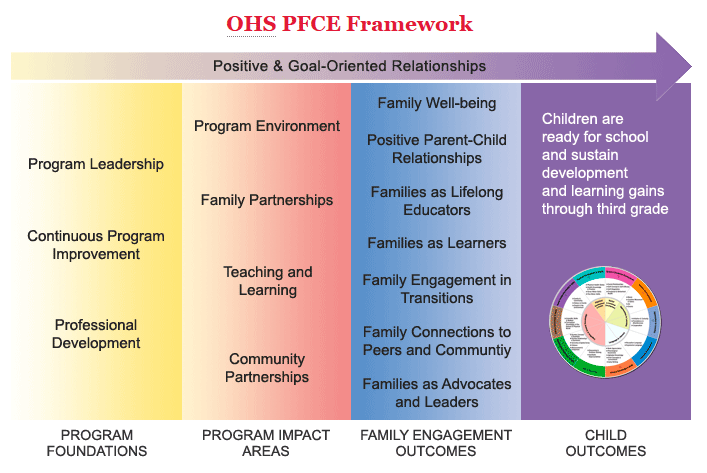 Home Visits
A very important way you will participate in the Head Start program is by inviting your child's teacher to come into your home for a Home Visit. This visit is another way to communicate and connect and get to know your family better. The visit will consist of the teacher talking with you and interacting with your child. Together, you will discuss goal setting, family strengths, any needs you may have, and ways that we can provide in connecting you to the resources available in our community. In addition, activities may be planned to include all members of the family. This visit can enhance your child's relationship with his or her teacher. Your child's teacher will contact you to schedule a time to meet with you in your home.
Family Partnership Agreements
The family partnership agreement process will help your family to think in a specific, concrete way about what you want and need for your family and your child, and what it will take to reach your goals. Every goal is treated as unique and important, and you and your Head Start School Family™ will build on family strengths to address opportunities and challenges in your growth and development together.
If a family is interested in receiving Head Start services, they and their teacher and/or family service worker jointly develop and sign an agreement that documents the responsibilities of both the parents and the staff. This agreement hopes to garner success through setting reasonable timelines, discussing appropriate and available resources and how to access them, as well as outlining program expectations and requirements. Your teacher and/or family service worker will continue to work with you in reviewing progress, as well as addressing any additions or changes you wish to make to the agreements as you move forward.
Parent/Teacher Conferences
Parent/teacher conferences help to build strong bridges between the learning that goes on at home and within your Head Start School Family environment. For this to happen, you and your child's teacher need to share information with each other. You need to know what is going on in the other's experience with your child, the teaching strategies that each uses, and each other's concerns and goals. Therefore, we ask that you participate in parent/teacher conferences two times a year (fall and spring) at your child's center. Your child's teacher will call or send a list of the dates and times that you may choose from to schedule your conference.
Family Fun Nights
Our Head Start School Family™ values the chance to spend time with our families in our school environment. We will plan and host events regularly throughout the year to provide an opportunity for your child and your family to interact with and engage in center-based fun with our staff through family-oriented activities at each center. A meal, activities for the children, and other "goodies" will be available, as well as information regarding school readiness and updates about KCHS. All family members are encouraged and welcome to attend. Examples of our Family Fun Nights include:
Harvest Festival: Fall crafts are made by children and parents.
Make-It-Take-It Night: Age-appropriate crafts and items are made by the children that they can then give away as presents to family and friends. Instructions are provided so the families can make more gifts at home if desired.
Cooking with Kids: Fun and nutritious snacks are made by the children. Nutritional information is provided for parents.
Annual Art Show: Children's art collected over the year is displayed in a "gallery" for all to view.
Volunteer Opportunities
You are encouraged to participate in the program by volunteering in your child's classroom, participating in the School Family™ Meetings at your child's center, becoming an active member of the Policy Council, or any other way that may fit into your busy schedule.
School Family™ Meetings
Every KCHS center has a parent group that meets at your child's assigned center. You are a member of this group. At KCHS, we call this our School Family™ Meeting. These meetings are opportunities for discussion of and planning of center activities, and allow time for parents to get together to share ideas and interests. The School Family™ Meeting is a great place to learn a new skill, meet other parents, and to become involved in your child's education and learn more about KCHS.