One of Knox County Head Start's goals is to pair families of our children with local resources that can help improve their lives.
Get Healthy Knox Parent Survey Report
This newsletter from Get Healthy Knox shares findings of a 49-question survey to Knox County parents and caregivers regarding attitudes about parent training and support as well as their concerns and practices related to parenting. Follow Get Healthy Knox on Facebook to get helpful news and information for maintaining healthy families.
Community Health Assessment
Our Head Start families may find Knox County's 2014 Community Health Assessment interesting. It has been completed through the Knox County Health Department with the assistance of several other agencies and organizations. Here is a link to the Full Report and the Executive Summary.
Calling 2-1-1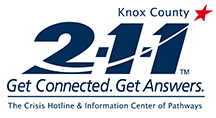 A call to 2-1-1 connects people in Knox and Licking Counties with needed services in the community, as well as information about those services. 2-1-1 provides access to agencies for those who are not sure how to find the help or information they need. This free service provides confidential 24/7 access to social service information while saving 9-1-1 for emergencies.
When a call comes in to the center, 2-1-1 staff work to explore the feelings and needs of the client, build rapport, and explore alternatives that are available to them. Once the basic need of the call is established, staff then make referrals to the nearest services available for them and document the client's information, including age, zip code, household income level, and more.
Resource Directory
There are many local resources that families can browse through or search by subject matter, agency name, need area, etc. Click here to access the online directory.
Other Services
2-1-1 and Pathways of Central Ohio have also provided a brochure that outlines other emergency and crisis services available in Knox County, including:
Abuse/Violence
Crisis Intervention
Community Meals
Dental Care
Developmental Disabilities
Food Pantries
Information/Referral
Medical Care
Medication Assistance
Mental Health Services
Rent/Utility Assistance
Senior Services
Shelters
Substance Abuse Services
Thrift Shops
Transportation
Veterans
Pathways Parent Education Center
The 2-1-1- hotline of Pathways of Central Ohio is a partner agency of the United Way of Knox County and is a contract agency of Mental Health & Recovery for Licking and Knox Counties.