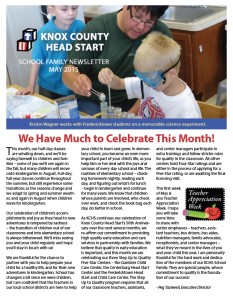 Knox County Head Start endeavors to publish a monthly newsletter for parents/caregivers. It is distributed in hard copy form, but we also post an electronic version here and on our social media outlets. In it, you will find helpful information such as:
Upcoming events and activities
Info and reminders about upcoming training sessions
Photos from our KCHS centers
Info related to healthy families
Community resources
Parenting tips and ideas
And more!
Click the links below to open the newsletter in a PDF format.
2018
2017
2016
(No January newsletter)
2015
(No January newsletter)
Save
Save