New Hope Early Education Center receives state's highest, Five-Star Award for Excellence in early care and education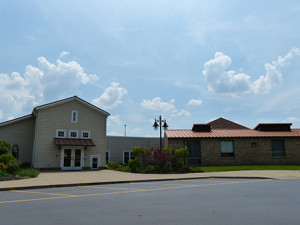 In recognition of its high-quality early care and education program and its ongoing commitment to children, the New Hope Early Education Center has received a Five-Star "Step Up To Quality" Award from the Ohio Department of Job and Family Services – Bureau of Child Care and Development, the state agency responsible for licensing and promoting high standards of Ohio's child care centers. This is the sixth and final Knox County Head Start (KCHS) center to receive this award, meaning that all KCHS centers are now five-star rated.
KCHS has been serving Mount Vernon and Knox County since 1965. NHEEC is located at 11700 Upper Gilchrist Road in Mount Vernon and currently serves more than 80 children and families. Other centers are located in the north end of Mount Vernon (Northgate), Centerburg, Danville, Fredericktown and Gambier.
"We applaud NHEEC employees for their commitment to children. By going above and beyond Ohio's minimum licensing standards, educators give young children the opportunity to grow and develop in a stimulating, nurturing environment," said Peg Tazewell, executive director for KCHS.
Step Up To Quality (SUTQ) is Ohio's quality rating and improvement system for licensed learning and development programs. SUTQ recognizes learning and development programs that exceed licensing health and safety standards. Program standards are organized into four domains: learning and development, staff qualifications and professional development, administrative and leadership practices, and family and community partnerships. By 2020, Ohio intends that all children served with public funds will be served in high-quality classrooms or family child care homes, defined as those environments rated at a Star Three or higher. For more information, visit www.earlychildhoodohio.org. Experts say these benchmarks improve the growth and development potential of children. The rating system gives parents a useful tool for selecting quality early childhood programs.
"Head Start has been a blessing for our family. My son, who is a former Head Start student, was going through some difficult times, and, I'm thankful for the teachers and staff who all worked closely with him to help him succeed with his learning," said Patty Dawson, a New Hope parent. "My daughter is currently in her last year of preschool. With the routine of fun ideas of learning, she has blossomed and is now more than ready for kindergarten."
Celebrating 50 years locally and nationally, the comprehensive services of the Head Start program model are recognized as a key element to improving children's lifelong learning and success. In President Obama's recent State of the Union address, he called for more focus and dedicated work to ensure vulnerable children and families have access to high-quality care and education in their earliest years. The President's FY'16 budget includes a commitment to expanding and strengthening child care and early education programs, Head Start specifically. Governor Kasich's FY'16 budget proposal also includes expanded early education funding.
From a recent article that appeared on TheHill.com: "Nobel-prize winning economist James Heckman has suggested that the social-emotional development cultivated by programs that focus on more than simply academic skills may be the true contributor to long-term impacts of the program, and health benefits ranging from decreased child mortality to adult health behaviors also make a difference over a life-span. But the true motivator behind children's success through elementary school and beyond very likely is their parents. By helping families who are struggling with poverty and other socio-economic challenges achieve their goals for education, employment and housing, Head Start and programs like it play a transformative role for two generations together."
KCHS serves 500 children and families throughout Knox County, providing comprehensive services including educational activities supporting children's readiness for kindergarten, and attention to children's health, social-emotional, dental and nutritional needs, along with supports for parents in promoting family self-sufficiency. Services are provided to pregnant moms, infants, toddlers, preschool-aged children, and school-aged children, funded through the Department of Health and Human Services – Administration for Children and Families Federal Head Start grants, with additional support from the United Way of Knox County and The Community Foundation of Mount Vernon & Knox County.
For more information visit www.knoxheadstart.org, like Knox County Head Start, Inc. on Facebook or call (740) 397-1344.